Latest "Brave" Trailer Released!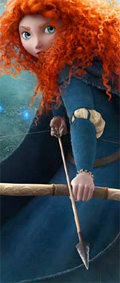 The latest – and possibly final – trailer for Pixar's latest upcoming feature "Brave" has been released and is presently doing the rounds online.
The film, scheduled for a Stateside release on June 22nd, will tell the story of Merida, a willful Scottish archer who endeavours to control her own destiny in defiance of tradition, only to find herself cursed and her kingdom thrown into chaos.
"Brave" features Kelly MacDonald (of "Trainspotting" and "Boardwalk Empire" fame) as the voice of Merida, supported by an extraordinarily high-profile ensemble cast including Billy Connolly, Emma Thomson, Robbie Coltrane and Craig Ferguson (and of course, it being a Pixar film, Cliff Clavin will weigh in at some point)
You can check out the new trailer below: