Skwigly Launches This Is Not A Cartoon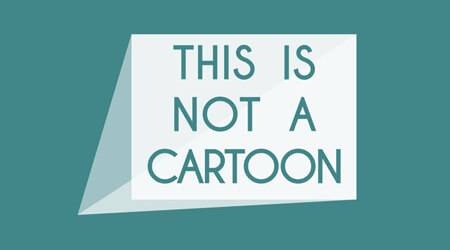 After months of behind the scenes work Skwigly Online Animation Magazine is proud to announce that it is curating a series of short film screenings alongside live director interviews and workshops.
Working in partnership with the British Film Institute and Film Hub North West Central This Is Not A Cartoon launches today and will present quarterly screenings of the best international animated short films on the festival circuit followed by interviews with directors ensuring a behind the scenes look at the craft that goes into these films as well as young audience screenings that also offer workshops to help introduce children to the wonderful world of animation to show them the skills needed to kickstart the next generation of talent.
Jen Hall, program director of This Is Not A Cartoon had this to say about the project.
Animations such as these are rarely seen outside of festivals and with only a handful of festivals still showing animation in the UK screenings such as these are more important than ever to introduce the work of these directors to new audiences and for die hard animation fans to indulge themselves in their favourite art form.
The first screening will take place at Stoke-on-Trent and will feature a live Q&A with BAFTA award winning Ainslie Henderson director of I Am Tom Moody and Monkey Love Experiments. Upcoming screenings at The Dukes in Lancaster, Derby QUAD and HOME in Manchester will also feature live director interviews that will be announced at a later date, for full details visit the newly launched website.
Films included in the first screening package include Don Hertzfeldt's sensational World of Tomorrow*, the heart pounding action of Danny Madden's Confusion Through The Sand, a trip through time with the Oscar nominated A Single Life by Job, Joris and Marieke, the reflective poignancy presented in Alan Holly's Coda, the eerie tragedy of Zepo and the tender connection of life, love and death told through string in Ainslie Henderson's Moving On. The films on show present both the technical brilliance and superb storytelling that animation has to offer, this is fun, this is drama, this is excitement, this is action – but remember, This Is Not A Cartoon.
For details of upcoming screenings guest directors and dates please visit the website.
http://www.thisisnotacartoon.com
Details of screenings will also be posted on the Skwigly twitter and Facebook feeds.
For more information on Film Hub North West Central and their current projects, please visit their website at www.filmhubnwc.org
*World of Tomorrow will not screen at Stoke-on-Trent