Managing Director & Content Producer: Ben Mitchell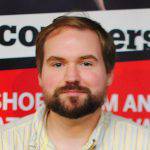 Ben Mitchell is a Bristol-based animation/post-production freelancer, independent director, composer and graphic novelist.
As a freelancer he has produced animation work for CBeebies, Channel 4, Plymptoons, Somethin' Else, Wonky Films, A Productions, Slurpy Studios, Channel Flip and Happy Hour to name a few.
As an independent director he has produced three multi-award-winning short animated films - "House Guest", "Ground Running" and "The Naughty List" - which have been showcased at over 100 international film and animation festivals including ITFS Stuttgart, Clermont-Ferrand, Encounters, Monterrey International Film Festival, I Castelli Animati and Anima Mundi. He is presently working on his fourth short, "Bullies", and recently released his first original graphic novel "Throat".
Visit Ben Mitchell's Website
Follow Ben Mitchell on Twitter
Articles by Ben Mitchell...